Fairmont Lakes Foundation Inc recently held their 7th annual winter ice fishing contest. It turned out to be a beautiful Saturday that 29th day of January. We had a great turnout as the tournament sold out with 150 participants. It seemed like everyone was really enjoying the day. Catching fish, spending time with family and friends.
It was really great to see the abundance of activity on the lake that day. There was a new twist to this year's contest as we added a yellow bass feature. Whoever caught the most weight in yellow bass would win $200.00 cash thanks to Legend Guide Service. Then Pat Hardt and Larry Kling donated enough money to pay down to 4th place! Thanks guys!
We hope to see you at the 8th annual ice fishing event which will be the last Saturday in January 2023.
Please remember to frequent our great sponsors below!
Thank you,
Jim Utermarck
Fairmont Lakes Foundation Inc.
2022 Winners:
R. Jurries, 1st – Otter Icehouse (3.87 lbs Northern)
M. Mahlstedt, 2nd – Marcum Underwater Camera
B. Bonin, 3rd – Strikemaster 24v 8" Auger
J. Lasch, 4th – Mr. Heater 360 heater
D. Mahlstedt, 5th – Hummingbird Ice helix
M. Mahlstedt, 6th – Marcum M1 flasher
M. Schafer, 7th – Vexilar fl-12 flasher
E. Mahlstedt, 8th – K-drill 7.5' auger
B. Pederson, 9th – $100 gift
S. Guritz, 10th – $100 gift card
M. Mahlstedt, Biggest Walleye – $100 Cash
M. Mahlstedt, Biggest Pan fish – $100 Cash
Z. Hurlburt, 1st – Yellow Bass – $200 Cash (64 lbs!!)
R. Shumski, 2nd – Yellow Bass – $150 Cash (35 lbs)
J. Karsten, 3rd – Yellow Bass – $100 Cash (17 lbs)
H. Grathwohl, 4th – Yellow Bass – $50 Cash (14 lbs)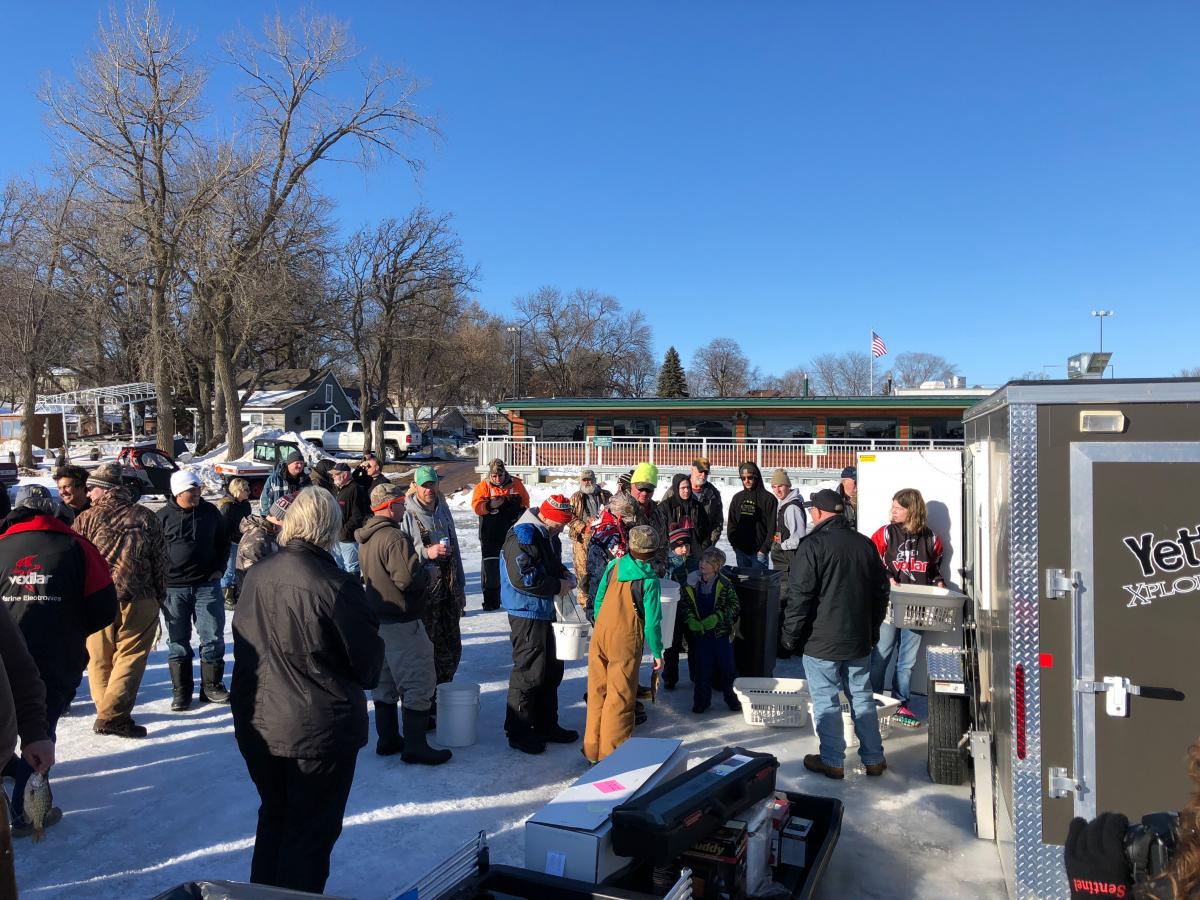 2022 Prizes:
1st – Otter Icehouse
2nd – Marcum Underwater Camera
3rd – Strikemaster 24v 8" Auger
4th – Mr. Heater 360 heater
5th – Hummingbird Ice helix
6th – Marcum M1 flasher
7th – Vexilar fl-12 flasher
8th – K-drill 7.5' auger
9th – $100 gift
10th – $100 gift card
Biggest Walleye – $100.00 Cash
Biggest Pan fish – $100.00 Cash